PAHO Core Indicators include data for the countries and territories of the Region of the Americas from 1995 to the latest available year. The following subregions are used in the Indicators Profile dashboard: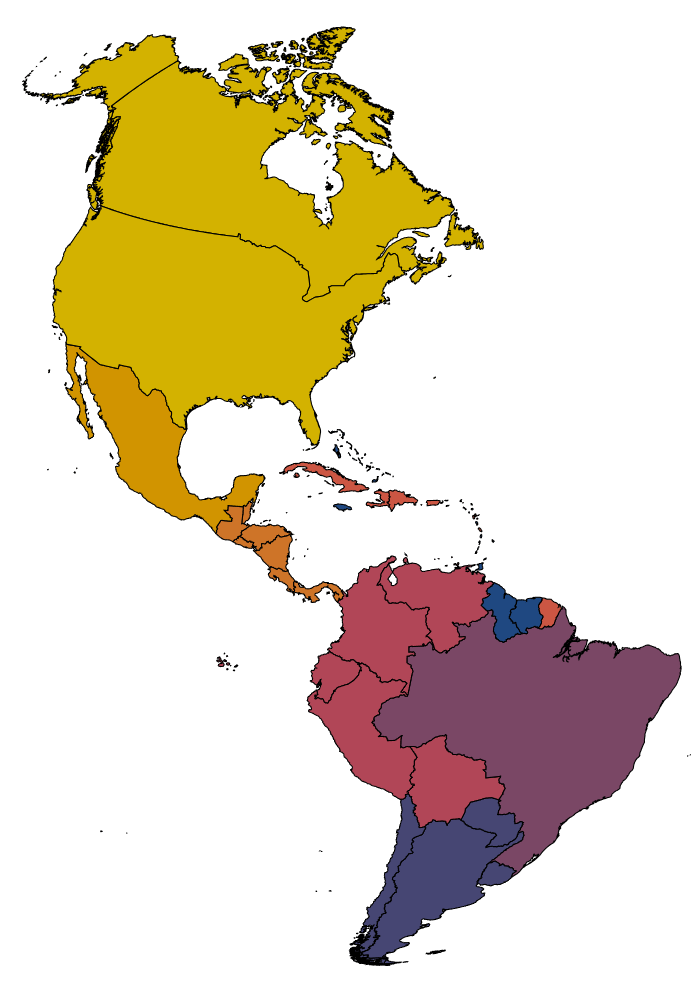 | | |
| --- | --- |
| North America | Bermuda, Canada, United States |
| Mexico | Mexico |
| Central America | Belize, Costa Rica, El Salvador, Guatemala, Honduras, Nicaragua, Panama |
| Latin Caribbean | Cuba, Dominican Republic, French Guiana, Guadeloupe, Haiti, Martinique, Puerto Rico |
| Andean Area | Bolivia (the Plurinational State of), Colombia, Ecuador, Peru, Venezuela (Bolivarian Republic of) |
| Brazil | Brazil |
| Southern Cone | Argentina, Chile, Paraguay, Uruguay |
| Non Latin Caribbean | Anguilla, Antigua and Barbuda, Aruba, Bahamas, Barbados, Cayman Islands, Curacao, Dominica, Grenada, Guyana, Jamaica, Montserrat, Saint Kitts and Nevis, Saint Lucia, Saint Vincent and the Grenadines, Sint Maarten (Dutch part), Suriname, Trinidad and Tobago, Turks and Caicos Islands, British Virgin Islands, Virgin Islands (U.S.) |
| Region of the Americas | All the countries and territories above |
Brazil and Mexico are being shown separately due to their population size.
The regional and subregional aggregates for rates, ratios, and proportions are weighted averages using population, age-specific population groups, births, deaths, and urban and rural populations as appropriate. Sums are presented for absolute numbers. Subregional figures are only shown when data are available for at least 50% of the population within the subregion.